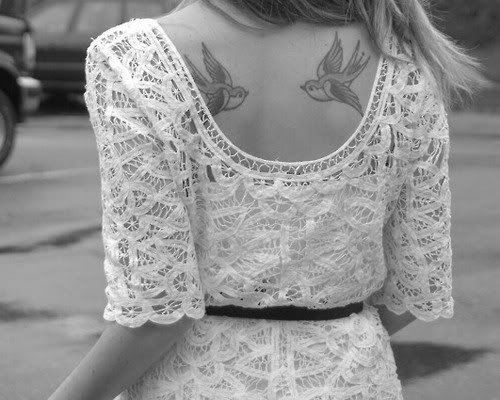 ♦
Cute lace dress, adorable tattoos, - love this picture!
♦


♦
Ok, Shark-Rose. So much cool.
♦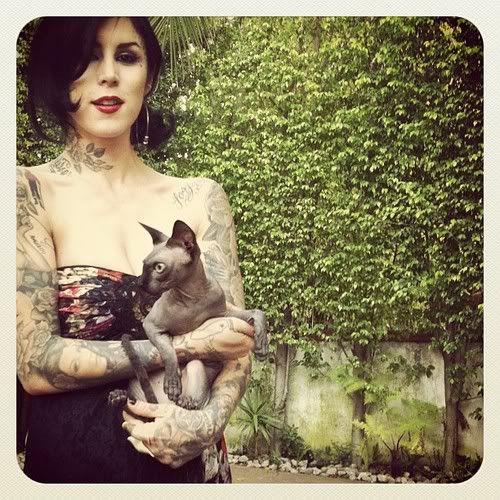 ♦
I just love me some Kat Von D!
♦
♦
Love
this
take on the "Sailor Jerry"-esque schooner and anchor
♦
Hoping everyone is having a great weekend so far! I'm finally at home with my parents, blogging from the comfort of my family's comfy-comfy couch. :) Now that I'm finally done with my first semester here at University, (not counting my first 2 full years at a community college), all I can think about are tattoos tattoos tattoos! My spare time has been taken equally by trips to the gym, (more on fun and healthy resolutions later), roller derby practice, and looking up tattoo inspiration on the internet.
I feel like I should reward myself for a semester well done with some new ink, don't you agree? (Or am I just making an excuse to feed my love for tattoos?!) Either way, I want another. There's this amazing shop right here in downtown Moscow called
Untamed Art
, and I definitely want to go there. Nick had a great experience and the shop is simply beyond cool. I'm thinking of focusing on sugar skull-inspired designs in a simple area, like my side, because I'm not going to be able to take the time off roller derby to get my pre-planned tattoo on the tops of both feet.
Let's chat inspiration! If you have a tattoo, what is it? What kind of tattoos do you like?
The weather here is so fickle. Today, with only 9 days until Christmas, I'm wearing a simple long sleeved t-shirt and no jacket and that bright sun is a'shining! Hmmm, doesn't quite feel like the holidays without a white snow-covered Christmas.
xoxooo
PS - As with every inspiration post, if you know any of the original sources for the pictures please let me know! Comment below or shoot me an email at shopflowershop[at]hotmail[dot]com.